Healthy Food & Drink, Healthy Growth!
Juice Zone is an international award winning  franchise and a global leader in the booming healthy fast-casual food industry. Our concept is perfectly in tune with the growing demand for healthy, fresh-made foods. Our business is the development of well-designed stores that operate efficiently and profitably, and are located at strategic sites with high foot traffic, visibility and easy access. Our stores offer a fun, upbeat ambiance, and feature an exceptional menu of highly nutritious drinks and foods.
Juice Zone's mission is to provide its customers with a fresh and healthy alternative to fast food. We aim to make nutrition delicious, quick and convenient, and to provide every customer with an extraordinary health experience unlike any they've ever tasted!
The Best Menu In The Fast-Casual Food Industry:
Pure Fruit Smoothies – the healthiest and tastiest in the industry – by far!
Freshly Squeezed Juices – squeezed fresh for optimal health benefits.
Fresh-To-Go – Sandwiches, Wraps, Paninis and Salads.
Organic Coffee and Herbal Teas
Frozen Yogurt – delicious and healthy combination of non-fat frozen yogurt with waffles and a dazzling variety of fresh toppings.
All of our menu items are made fresh using only the highest quality ingredients.  
As a turnkey operation, a Juice Zone store is
thoroughly invested with the benefits of extensive planning and testing.
Careful consideration of every detail shows in:
Expert selection of ideal location
Vibrant design of store's interior and exterior
Aggressive marketing program with all first class marketing tools
Highly efficient operations, developed and proven successful
Comprehensive training, updated each year
Full spectrum of Juice Zone recipes
Professional and dedicated on-going support
Our expertise in supplier relationships, and much more
The Juice Zone franchise advantage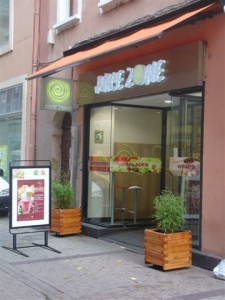 shows in every detail of the concept and store operations, ensuring our commitment to the highest standards, and the success of every franchise. As a leading internationally established brand, Juice Zone has the experienced team, global networks, superior strategy and support systems to help its partners succeed.
We cover the spectrum in dining and also in store design, offering the flexibility of bar, kiosk or lounge footprints. This presents each franchisee with additional opportunities to deliver the Juice Zone concept when and where customers are most receptive.
Juice Zone continues to create new franchise opportunities for sharp business people who want to take advantage of the global trend toward healthy eating. Our franchise partners are realizing their dreams of business ownership, with the strong support of our development team of business advisers, food service experts, store designers and financial experts.
Awards
2014: "Fresno 2014 Award" to Juice Zone – Fresh & Healthy Café.
2014: "Top Franchises Award" to Yo – Good by Franchise Direct.
2013: "Top Franchises Award" to Juice Zone by Franchise Direct.
2013: "Top Franchises Award" to Yo – Good by Franchise Direct.
2008: "Top Food Franchise Trends" awarded to Juice Zone by Franchise Direct.
2005: "Top 100 Franchise Brands" awarded to Juice Zone by European Franchising.
2004: "Best Business Format for Franchising" awarded to Juice Zone by Franchise India.
For those interested in building a successful life of independence, while helping customers enjoy a healthier, more convenient life style, a Juice Zone franchise is an exceptional business opportunity.